We Have a Winner! Random.org picked #23:
Rural Revival said...
Wouldn't that be the bees knees!
ontarioruralrevival@gmail.com
www.ontarioruralrevivial.blogspot.com
__________________________________
We've had quite a few questions lately about where our button is located, and how to add that button to your sidebar. I thought it might be a good idea to do a "Button Refresher," and offer a new button, as well! We have quite a few button designs to choose from on our
button page
, so that you can choose one that best suits your blog. Meet the newest addition of our Guidebook buttons to help you spread the bloggy love: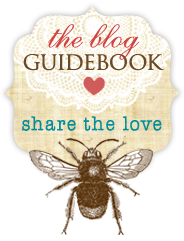 Can't seem to FIND our buttons? We have three ways to get to our button page:
1. See that little bee button along with the social media icons above our posting space? That will take you to our button page. It looks like this:

2. In our sidebar we've added the "share the love" button, right above the followers, so that it's easy to spot. Click that, and it will take you straight to the button page.
3. We also have a hidden navigation bar down at the bottom of the page. Hover over the bottom right hand corner to see the arrows to "Maximize Toolbar." In that toolbar there is a link that says "Get Our Bee" (left hand side of the navbar). It will open a window within the screen offering the code for all of our buttons.
Three easy ways to help spread the word about the Blog Guidebook!
Need a little more?
• Not sure how to ADD that button to your sidebar? Find out how HERE.
• Want to make a button for your sidebar using Picnik for free? Find out how HERE.
• Want to offer that button to readers with code? You can do that HERE.
NOW FOR THE GIVEAWAY:
Would you like your very own button with code for YOUR blog? I will whip one right up for you! All you have to do is leave me a comment with your e-mail and blog address (and please be a Follower). One lucky winner will be chosen. Giveaway closes Friday, February 11, at 12pm PST.