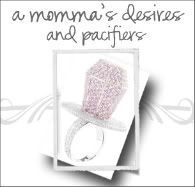 Meet Raven (I couldn't resist this photo):
Ahhhh. Here we go. (Much better):
Raven is a real life mom, living it up in Blogland, sharing her every day dilemmas and dreams with her readers. Her perspective always has a sassy, sarcastic slant, and a plethora of pretty pictures. Once you start reading Raven's rant you'll either be hooked...or turn to the dark side! Raven blogs about all the gory (and glory) details of married life with 2 cute kiddos. If there was a reality show called "The Real Housewives of Blogger," she'd be the star of it!
Her writing style is no-holds-barred, and really hilarious. If you are new to her blog, we recommend visiting her
Favorite Posts
to get your feet wet. She's a girl who loves Britney Spears, red wine, and her family. She believes in fun, the truth, and a real tan (who doesn't?). This blogger likes to tell it like it is, live it as it comes, and love it all the while! Click on over to be a part of Raven's world, at
Momma's Desires and Pacifiers
!