(love that subtitle)


Sure, there are a lot of mom blogs out there. And mom inspiration blogs. And blogs with vlogs (video blogs). But I have to say that I especially enjoy Eisy Morgan! Her blog seems to be at that great stage of growth where she has enough followers to offer interesting and timely, often-updated content, but no too many that she feels inaccessible. She's just so darn likeable!
So what is it we especially like?
• Hair tutorials (And if I didn't have a pixie-short do, I'd be all over these. That didn't stop me from still watching a bunch–haha!)
• All of her awesome tutorials, for that matter.
• Her sassy, friendly, inviting, easy-going nature, and unique voice!
• Her inspiration spotlights.
• The cutest sidebar buttons doubling as site navigation. I want to gobble up this puffy font:
• Oh and of course she's on
Etsy
!
• Inspired by You Wednesdays: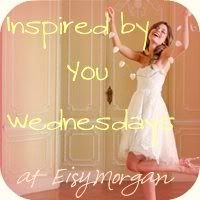 Why are you still here? Go check her out! You'll be hooked in a as soon as you land on her blog: