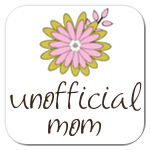 Sara, of Unofficial Mom, is really one of the most official mamas you'll find! Like many, she is unable to conceive on her own. She has the most ADORABLE adopted little "Pie." I actually just finished reading Pie's birth story. Of course I shed a few tears. So Unofficial Mom is of course a blog about being a mom. But she's also hilarious. And crafty. An honest. And real. I love that.
I realllllly hope she doesn't mind, but instead of posting photos, I wanted to repost something so touching from her blog. Read it, and then rush over and read so much more!
I stare at her. And, yes, my mother did teach me it was rude. But I cannot help it.
I stare and try to memorize every curve of her face, every line, crease, patch of

rosy

skin. I stare and I see nothing of myself, nothing of Husband. There is not a trace of my mouth, not a hint of his eyes. There are no discussions about the hair color that was passed down from this grandmother or the funny toenail that came from that uncle. We don't know those things.
I stare and I see nothing of myself, nothing of Husband. I see her bio dad's face and her bio mom's coloring. I see all of her

ethnicities

shining through. They are not

ethnicities

that we share with her. They are hers and hers alone.
I stare and I see everything important of mine and everything important of Husband's. I see the crinkle in her nose when Husband makes her laugh. I see her hands and feet fling with joy when I come home from work. I see the trust, the peace, the love in her eyes. I see the reflection of my absolute adoration all over her face.
I stare and I see my daughter.
(copyright Unofficial Mom)