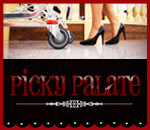 There are loads of food blogs out there. But I just keep going back to Picky Palate! I love their catch phrase: "Dressing Up" Original Family Style Recipes For Even Your Pickiest Eaters. Sounds like the perfect place to find recipes for my household!
• A friendly, creative, accessible mom creator and author.
• An extensive recipe index with photo thumbnails so you can let your stomach do the browsing.
• Easy to navigate, and salivate!
I'll let these photos speak for themselves. Click on the photo to visit the recipe on the site:
Gingersnap S'mores for dippin':
Chunky Chicken Noodle and Vegetable Soup:
Grilled Balsamic Bruschetta Chicken: