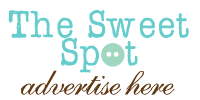 STILL OPEN FOR ENTRIES!
We can't believe it's almost the end of the week! How did time pass so quickly? We've still got 11 (maybe more) giveaway items - and they are fabulous! So we have decided to just keep the giveaways going until they are all done - now that sounds like a rewarding birthday celebration to us!
Today we have something fun to share with you! The Blog Guidebook is giving one lucky winner free ad space in our Sweet Spot! Wow! For the month of July you can get your blog noticed by over 6000 readers (RSS and GFC and 2000+ FB) of the The Blog Guidebook. Etsy shops, websites and blogs are eligible for placement in the sidebar.
AND! We are giving away 5 spots in
below post ads
- this is premium coverage for our winners! Every time we publish a post it goes to our RSS, FB, Twitter and Blogger readers...you will be seen for sure!
To enter, just leave a comment stating your favorite thing about The Blog Guidebook and you will be entered into today's giveaway and could possibly win one of the above mentioned prizes. Entries for this giveaway will end at our discretion on or around June 30th. Good luck!
CHECK BACK VERY SOON - THERE WILL BE MORE GIVEAWAYS POSTED TODAY...and don't forget many of our previous giveaways are still open!