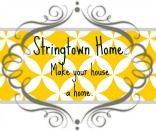 We love it when there's a newbie on the block and you get to meet and greet in Blogland! Please welcome Heather and her new blog
Stringtown Home
. And just because she's new doesn't mean there's not some great content and awesome ideas brewing...check out these features:
Free Printables
2012 Texas Trade Days Guide
Some of My Favorite Things
Tips & Tricks Tuesday (linky)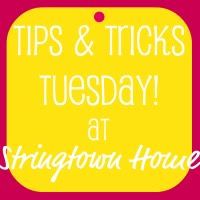 Heather says:
Welcome to Stringtown Home! Here you'll find refurbishing ideas to ease the strain on your budget, easy & cheap recipes, crafts for the family, pinterest help, organization tips & printables, & many more things geared toward making life easier. Enjoy what we have, sift through the pages using the links to the right, & if you have a blog of your own, visit our "Tuesday's Tips & Tricks" page, & post something that you are proud of from your site.... MOST OF ALL, remember - there's no place like home
(Stringtown Home, that is)
!
Welcome to our world Heather!