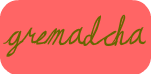 I am spotlighting such a great blog today. It's so cute, I can hardly stand it. Greta is a creative mommy blogger (something we have in common). And I especially love the down-to-earth tone on her blog. The design is awesome. Really one of my favorites I've seen in a while! Killer color combination, just enough floral pop, and a funky font. I have a slight case of blog envy, I'll admit. (Greta, I have to know. Did you design it yourself?)
So what is Gremadcha, you ask? It's a blog about raising three girls and a boy, being creative, and messing up all the time. And if you want to know where the title of her blog came from, you'll have to just visit and read a little more about it!
There are SO many things I love about this blog. The post titles are always a hoot. Something about her phrasing makes me want to read every post based on title alone. I can truly relate to this blog. She says things I only wish I had said, or need to say, but don't know how to put it delicately (solution: don't put it delicately). She tells us how it is in the most charming and humorous way. She is an honest blogger and loving mother. Her kiddos might be the cutest collection of 4 children I've ever seen (I think she just made me want to have another girl...heaven help me). And somehow, miraculously, she's taking the everyday mom photos we all take, yet she seems to almost always capture that exact ridiculous/charming/hilarious/quirky/precious moment that I often miss. And her kids names are to die for. I think she just might be my alter ego...
And in case there isn't enough greatness on her blog, she also has a wonderful Etsy site, found
HERE
, where she sells the most darling and unique accessories.
(I am already out of adjectives, I just used all the good ones.)
And 10% of all of the sales go towards this worthy cause:
So grab a cup of something to sip, and take a trip on over to
Gremadcha
!