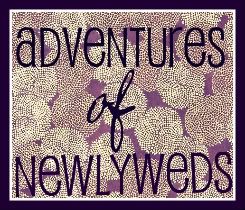 I know I keep including annoying little coincidences on most of these "get to know" posts. But this time it's not my coincidence. It's a Top Blog nominee coincidence. This darling blog seems to have a connection with another cool blog that we just told you all about, Today's Letters. Looks like we've got some fraternizing with the enemy going on all up in here!
Oh wait... I DO have my own coincidence.
(Sorry...)
Just yesterday, I (Lyndsay) was talking to my Blog Guidebook better half (Sarah) about wreaths. Specifically simple while acorn wreaths. Then I got off the phone and realized I could make the same effect with Lima beans. Guess what? Looks like Ashley tackled the same project! (This isn't her wreath, but you can find her tutorial
HERE
.)
OK. Back to the Newlyweds. I am no longer a newlywed. But this blog makes me remember those days happily. (And it makes me want to kiss in a vineyard...just sayin'.) Here is the blushing bride and dreamy groom's low down:
Jonathan and Ashley are newlyweds, discovering how to be married while traveling, cooking, exploring, and learning to love and forgive daily through the grace of God.
Man—the cooking and culinary tips that go on over there!
I love all of the recipes and kitchen item wants & needs they post. It reminds me of what can actually be accomplished when I don't have a screaming toddler glued to my ankles while I try to stir a pot. My favorite? She made KALE CHIPS! I am dying to try them. Find out how she does it
HERE
.
For a nice slice of life, visit them
HERE
. Their cozy blog design really makes you want to pull up a chair and stay awhile!
*****