With
Fourth of July
upon us, some of us may have an extra day off to spend doing household chores, remodeling, entertaining and so forth. I plan on using my extra day to catch up on some of the activities in Blog Land, aka Blogosphere etc. On my personal blog I participated in the blog party
Where Bloggers Create
(1&2), and I have to catch up with all the amazing ladies who have visited so many interesting places of creativity. The party was started by Karen Valentine, from
My Desert Cottage
and
Valentine Design
of course! I also had a chance to find out where Karen gets all her ideas, so check out her interview below.
GIVEAWAY
Karen is also giving away sidebar category tags to match your current design, or free tags if purchasing a custom design. Just become a follower here, then go to
Valentine Design
and leave a comment, then leave a comment on the
Blog Guidebook
for an extra entry. Please leave an email so we can contact you if you're the winner!
BGB
: What made you start blogging?
Karen
: I was browsing the magazine rack and picked up a copy of "Artful Blogging" by Stampington and Co. I got totally sucked in to the pictures and the articles. When I got on line and looked up some of the blogs that were featured, I new it was something I wanted to do.
BGB
: Are there bloggers who have inspired you?
Karen
: I know this sounds cliché' but it's true. ALL the bloggers inspire me. The support and friendship that they all give so freely is just amazing. I started blogging because of the magazine, but I fell in love with blogging because of the wonderful women I have met along the way.
BGB
: Do you have any suggestions for new bloggers? Any tips on gaining followers/readers?
Karen
: The most important thing is to share a little bit of your inner self. What makes you happy, joyful, sad? It helps you connect with other women out there who feel the same things you do.
Then, you have to get people over to your blog. The best way to do this is to visit other blogs and leave comments. Most bloggers will come over for a visit to say hi. Another good way to bring people to your blog, is to participate in a blog party. Some of them are weekly and some big ones, (like Where Bloggers Create) are once a year. You get to discover lot's of new and wonderful blogs, and they get to find you too.
BGB
: Do you think there are specific genres that are more popular than others in blogging?
Karen
: I'm sure there are. For example, there are tons of fabulous Art , and Home and Garden blogs, but as my husband will attest, almost no good classic car blogs!!! LOL!!
BGB
: Does your blog relate to your job at all, is it your job?
Karen
: "My Desert Cottage" does not relate to my job, just my passiona and the things that make me happy. My other blog "Valentine Design" however, was created for showcasing my blog design work.
BGB
: Have you ever hosted a blog party or linky party?
Karen
: Yes. My very first blog party was last July, when I hosted the first Where Bloggers Create party. I was blown away by how great it turned out, I had about 150 women sign up and everyone said they had a wonderful time, so this year I did it again and had over 400 women sign up! It's really great to get that many women together all sharing the things that they love.
BGB
: Was it successful?
Karen
: I think it was successful due to a number of factors. I was lucky enough to come up with an idea that lots of women could relate to. I know so many of us have that special room where we like to create. Plus, I think we all have some voyeuristic tendencies, especially where art and home meet.
One of the other reasons I think it was a success, is because I had many wonderful gals help me spread the word by putting my invitation on their blog. That really helps to spread the word. It's important to link your invitation to the post about the party. That makes it easier for people to find the information they need. An invitation with a grab box makes that really easy. And then of course, I owe a debt of gratitude to Where Women create who sponsored this years event. Many more women found out about the party because of the magazine.
BGB
: Which blogs do you read often? Any favorites?
Karen
: I have all of my favorites in my sidebar, but I could definitely list a few here. One of my favorites is Lisa's Tarnished and Tattered. (http://tarnishedandtattered.blogspot.com/) She is an amazing artist that creates things right up my alley. I can always count on amazing inspiration. Another couple of blogs that are always full of great ideas are Sandy's blog, Quill Cottage (http://quillcottage.blogspot.com/) and Jodies blog, Everything Vintage (http://jodielejeune.blogspot.com/) and Charlenes blog (http://myheartsease.blogspot.com/),
I could name so many more amazing women with amazing blogs , but I would be here all day!
BGB
: What are you currently working on?
Karen
: I just finished hosting this year"s Where Bloggers Create party. It was a huge job and there are still some loose ends to tie up including visiting about a third of the women who signed up! My husband and I are working on some small renovation projects in our home as well. After that, I need a break from major projects!!!
You can still read about Where Bloggers Create II all year long. Join in the fun in 2011!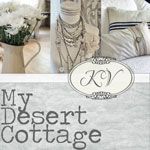 BGB
: Thank you Karen for your generosity and for taking a moment to chat with us!